Research Stained Concrete
Cost, maintenance and more
Common Questions

---

Buyer's Guide to Concrete Stain Products

---

Surface Preparation

---

Applying Acid Stains

---

Common Staining Issues

---
Can I Apply Stain Myself or Should I Hire a Pro?
The answer to this question all depends on your skill level and the complexity of the project. If you want to stain a small area, such as a patio, you might be able to tackle the job yourself, particularly if you're working with an acrylic-based stain, which tends to be more user-friendly to apply.
Before you decide to do the work yourself, make sure you're well-prepared:
Do you understand all the basics, from concrete surface prep, to stain application, to final sealing?
Do you have realistic expectations about what you can achieve with concrete stain? Because stains are somewhat translucent, they won't disguise flaws in the existing concrete and the color effects tend to be variable.
Do you have the right application tools? When working with acid-based stains, you'll need to invest in acid-resistant brushes and spray equipment. Some tools such as mops, rollers, and squeegees should be avoided by all but the most experienced applicators because they can leave undesirable roller marks or streaks of color.
Are you familiar with the hazards of applying chemical stains and the safety precautions you'll need to take?
Keep in mind that once a concrete stain is down, the color is permanent—there's no going back. If you have any doubts, hire the services of an expert, especially if the slab is large or requires extensive surface preparation or you want to incorporate multiple colors and elaborate decorative effects. Use the Find-a-Contractor database to locate a staining professional in your area.
Find concrete stain suppliers at ConcreteNetwork.com.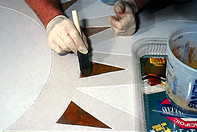 Photo: L.M. Scofield
Good Resources for the Do-It-Yourselfer
Consult with the stain manufacturer. Many are willing to provide detailed application instructions and technical support. (See this DIY information from the website of Kemiko Concrete Stains.)
Attend a decorative concrete training session on applying stains. Many companies offer hands-on training. (See this list of concrete training resources from ConcreteNetwork.com.)
Read a good book and watch a DVD on the topic, such as Bob Harris' Guide to Stained Concrete and companion DVD A Guide to Stained Concrete and More.