Research Stained Concrete
Cost, maintenance and more
Common Questions

---

Design Options

---

Benefits of Stained Concrete

---

Maintenance

---
Planning Guide
You've likely seen stained concrete before. Maybe you didn't even recognize that it was concrete when you first noticed it. The variety of designs that can be achieved with stained concrete is often what first gets attention. When you then discover all the additional benefits stained concrete offers, you start imagining how it could look in your own home or office.
Many people have a lot of questions about stained concrete...how does it work? Will it last? Is it right for my project? You've come to the most comprehensive place on the Web to find out everything you need to know about stained concrete. Start here in our planning guide section to get your basic questions answered, and to discover all of the design possibilities available when you stain concrete.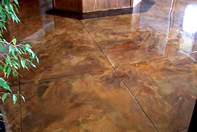 Cool Concrete Stain Projects - Marbelizing
Chemical stains do more than simply add color. Rather than produce a solid, opaque effect like paint or colored coatings, stains permeate the concrete to infuse it with rich, deep, translucent tones. Depending on the color and application techniques used, the results can mimic everything from polished marble to natural stone.